Join our #SewageFreeSeas campaign. Sewage pollution is damaging our ocean, but we can turn it around. Let's breathe life back into our ocean.
The problem
Sewage is pouring into waterways and seas at an alarming rate, harming the vibrant biodiversity of our ocean.
Raw sewage contains a cocktail of bacteria, viruses, 'forever chemicals', and microplastics, along with everything that gets flushed with it.
Sewage-related items, like wet wipes and period products, is regularly found on UK beaches - a tell tale sign of sewage pollution.
We know that sewage pollution is a massive issue facing our ocean. We're trying to change that.
How you can help
Share your existing pictures and videos of sewage pollution with us! If you spot any whilst you're out and about we've put together a handy ID guide below so you know what to look out for.
Post it on social media using the template: I found (insert what you found) on (insert where you found it). I'm supporting @mcsuk campaign for #SewageFreeSeas! Here's how you can help make it a reality www.mcsuk.org/sewage-free-seas
Tag us: @mcsuk on Twitter, @mcs_uk on Instagram.
If you don't have social media or would prefer not to post your images online, please submit your photos using the form below.
By getting involved, you're helping to show why we need governments to take urgent action to make #SewageFreeSeas a reality.
What to look out for
Combined Sewer Overflows (CSOs)
A pipe with a visible opening. It may have a foul smell and could be discharging either clear or brown liquid. Some pipes may have a grate/screen or opening covered by a flap.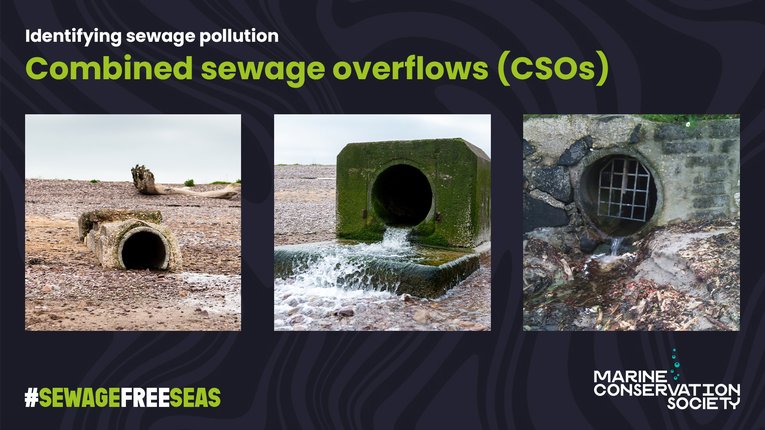 Sewage-related debris (SRD)
This includes things like wet wipes, period products, cotton bud sticks and condoms. You may find sewage-related debris stuck on the grate of a CSO pipe.
Please note: Do not endanger your safety, or the safety of others, when taking photos and videos of CSOs. If you're picking up any litter with your hands it's worth wearing a strong pair of gloves - like gardening gloves - just to make sure you're protected.
Learn more about sewage pollution