Be a zero-waste chef and make a stock with fish leftovers. Freeze in an ice cube tray for easy future use.
Why be a zero-waste chef?
Making stock at home is an easy way to make sure you're getting the most out of your food.
By using leftovers, such as leftover veg and herbs, alongside bones, you can easily whip up a tasty stock ready to add to your favourite dishes. Try adding to stews and soups to add flavour.
Fish bones, heads and tails often make it into the rubbish without being used, but we want to encourage you to use the whole fish, getting the most out of sustainable seafood, and making sure nothing goes to waste.
Making your own stock also saves on buying stock from the supermarket, which is sometimes packaged in plastic and saves you money.
You can easily freeze stock, and you can use it from frozen, so it's readily available for when you next need it.
Where can I get fish bones?
If you shop at a fishmongers, they will have plenty of fish bones, heads and tails (known as 'fish frames') that they will usually hand over.
Online fishmongers will also often provide fish frames if you ask them, just give them a call or put it in the notes section of the delivery.
Sometimes supermarket fish counters will be able to provide fish frames for you, ask behind the counter as they may have filleted the fish in front of you out back.
If you're cooking a whole fish at home, you can simply use the leftover bones to make stock. You'll need around a kilo of heads and bones. If you haven't got enough for stock this time, pop them in a sealed bag in the freezer. Keep adding to it until you've got enough to make stock.
Remember to always check the sustainability of the fish frames you are using on the Good Fish Guide; every purchase matters. Also, it's best to use frames from white fish. Oily fish, such as mackerel and herring, don't make good stock.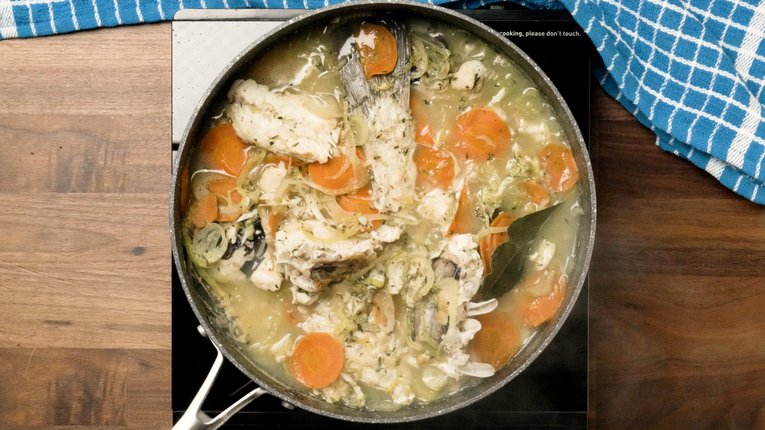 How to make fish stock
Ingredients:
Splash of oil
At least a kilo of fish bones & heads
Half as many vegetables, sliced as thinly as possible - we used fennel, carrot, leek (use any vegetables)
Herbs - we used thyme and bay (use any herbs)
Method:
Heat oil in a wide bottomed pan large enough to hold all the fish and veg
Cut the bones into small pieces and brown in batches, remove and reserve
Add the diced veg and herbs and cook on a medium heat until, browning very slightly
Return the fish bones to the pan and cover with water
Bring to the boil and keep on a medium heat for around half an hour, or until reduced by half
Strain through a sieve into a jug, and your stock is ready to use
If you want to save your stock to use at a later date, you can pour it into an ice cube tray to freeze and add later to fish recipes