Led by Natural Resources Wales, Natur am Byth! (NaB!) will help save threatened species across Wales.
About the project
We're working in partnership with nine organisations across Wales to deliver Natur am Byth! (NaB!), a four-year project starting in September 2023.
By working together, we can better understand and find solutions to the issues facing Wales' most endangered wildlife, marine life and habitats, and help them recover.
Connecting people with nature
The NAB! programme is the first of its kind in Wales, leading the way to nature recovery.
The National Lottery Heritage Fund has awarded the Natur am Byth! partnership over £4.1m.
With the support of Welsh communities, we'll be taking action to save our endangered species. By connecting people with nature, we can show why these species matter, and inspire them to get involved and protect them for future generations.
Welsh Marine Treasures project
We're delivering the Welsh Marine Treasures project – the only marine project in the NaB! programme. We'll be working in Pembrokeshire and Llŷn & Ynys Môn to protect and recover marine species, including seagrass, native oysters and pink sea fans.
To address this, we'll be working collaboratively with partners and stakeholders to plan and deliver a citizen science programme to monitor water quality, with a view to improve the conditions for these amazing creatures.
Seagrass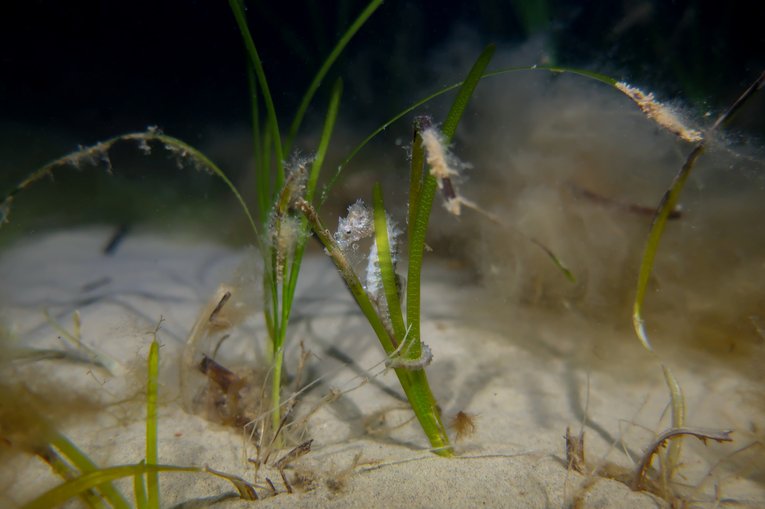 Credit: Georgie Bull
Seagrass is a biodiversity hotspot. Seagrass habitats provide a nursery for small fish and feeding grounds and homes for many marine creatures, including the UK's spiny seahorse and the short snouted seahorse.
Seagrass also stores blue carbon (carbon captured by the ocean), produces oxygen, contributes to natural coastal defence and improves water quality by trapping sediment and nutrients. Seagrass is vital in buffering the effects of the climate crisis.
Welsh Marine Treasures will build on our work using Advanced Mooring Systems (AMS) to allow further seagrass meadows to recover. AMS are less damaging than conventional moorings – and far more seagrass-friendly!
Native oysters
Credit: Paul Naylor
Native oysters are an important species. As filter feeders, they improve the quality of water, remove excess nitrogen, stabilise sediments, and are known to contribute to locking away blue carbon. Healthy oyster beds can provide a habitat and refuge for other species including juvenile fish, crabs, sea snails and sponges. Unfortunately, the native oyster population is declining across Europe, which is also affecting species and ecosystems that use them for survival.
Building on the Welsh Native Oyster action plan, Welsh Marine Treasures will test and scale up the restoration of oyster beds within Milford Haven waterway. We'll also create an oyster citizen science programme, which will enable oyster beds to be monitored and promote sustainable management.
Pink sea fans
Credit: Paul Naylor
Pink sea fan is a type of coral - a colony of individual tiny anemone-like animals that share a hard skeleton attached to rocks on the seabed. Unfortunately, they can only be found in a very few places in the UK – they are at the extreme edge of their range in Pembrokeshire and their numbers are declining.
Building on the existing monitoring by the Skomer Team within the Skomer Marine Conservation Zone (MCZ), this project will seek to protect the pink sea fan population around Skomer MCZ by engaging with sea-users and communities about the vulnerability of this iconic species.
We'll explore the human impacts on pink sea fans and will identify voluntary measures which can be put in place to support its conservation.
With thanks to the National Lottery Heritage Fund, Landfill Disposals Tax Communities Scheme and the Welsh Government for supporting this project.