Our latest Good Fish Guide ratings are out!
The latest updates to the Marine Conservation Society's Good Fish Guide to sustainable seafood have been published.
The update sees a number of new ratings being added to the list, representing even more of the seafood that is caught, farmed and eaten in the UK. There are also changes to some ratings to incorporate the latest scientific advice.
"If you eat seafood, use our Good Fish Guide to find the most sustainable options by looking at what species it is, where it was caught or farmed, and how."
Crab and lobster
New ratings for brown crab and European lobster now cover all English and Welsh fisheries. The only Best Choice options are Marine Stewardship Council (MSC) certified choices from Jersey (for European lobster) or Shetland (for brown crab). All other crab and lobster from the UK are amber-rated because improvements are needed to make sure fishing is better controlled and allows stocks to get back to a healthy state.
Spurdog
There are also new ratings for spurdog from the North-West Atlantic, also known as Rock Salmon in some chip shops. This shark species is Endangered in the North East Atlantic and European waters, and a Fish to Avoid if caught in these areas, so make sure you know where it's from before buying! If in doubt, look for MSC-certified options. Spurdog caught by longline off the Atlantic coast of the USA is a Best Choice, but be wary of gillnet or trawl-caught options in this area. These could be having impacts on local whale populations.
Basa
There are now more Best Choice options for basa. This species is also known as tra, catfish and Vietnamese river cobbler, so to be sure you know what you're buying, check the label for its scientific name: Pangasius. Aquaculture Stewardship Council (ASC)-certified basa remains on the Best Choice list and is now joined by options certified by Global Aquaculture Alliance Best Aquaculture Practice (GAA BAP) 3* and GLOBALG.A.P. Uncertified basa is amber-rated as there are concerns about its environmental impact.
Atlantic bluefin tuna
Atlantic bluefin tuna, which has slowly recovered from very low levels, is now amber-rated for the first time. The population is slowly increasing, but it's not yet clear if it has reached sustainable levels. Fishing pressure on the species is very low thanks to a long-term recovery plan. We urge a lot of caution about this stock, as we can't be sure that it's at a level yet to withstand increases in fishing pressure, and we are concerned that management is not being cautious enough. However, the move off of the Fish to Avoid list is a very positive milestone and a successful outcome of the hard work to rebuild the stock.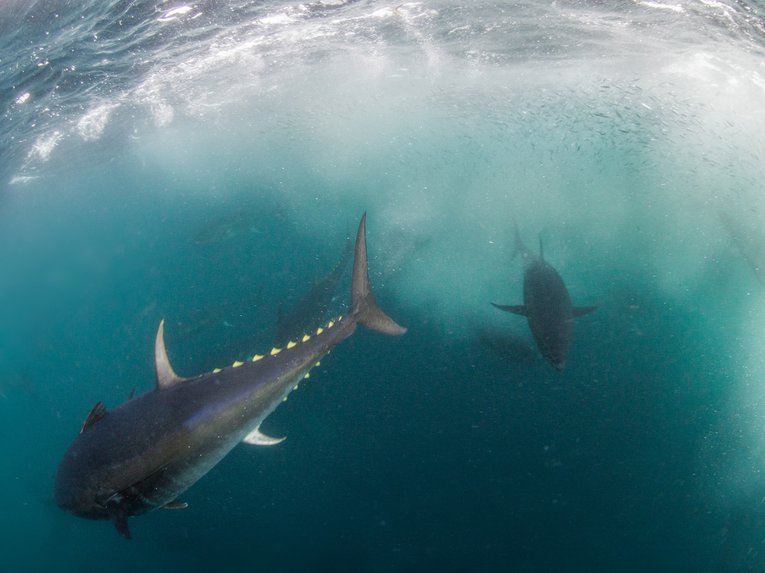 Atlantic bluefin tuna
Credit: Mark Kirkland
Longline-caught Atlantic bluefin tuna stays on the Fish to Avoid list because our caution about the stock is coupled with concerns about the risks of bycatch from this fishing method. Farmed Atlantic bluefin is also a Fish to Avoid, as not only does this method rely on taking young tuna from the wild to grow on in cages, it also relies on huge amounts of other wild fish for feed. On average, it's estimated that 20kg of wild fish is needed to produce 1kg of farmed Atlantic bluefin!
Looking beyond the Big Five
By choosing sustainable local seafood, you are supporting local fishermen and producers while reducing your carbon footprint. By choosing something different from your usual, you also help to reduce pressure on the Big Five that we always go for – cod, tuna, haddock, salmon and prawns.